Trinidad and Tobago Prime Minister Dr. Keith Rowley received assurances from oil and gas giants Shell and BP of their commitment to the twin-island republic's energy future when he met with officials at their offices here on Thursday.
Rowley had talks with BP's Chief Executive Officer, Bernard Looney, and separate discussions with Shell's senior executives.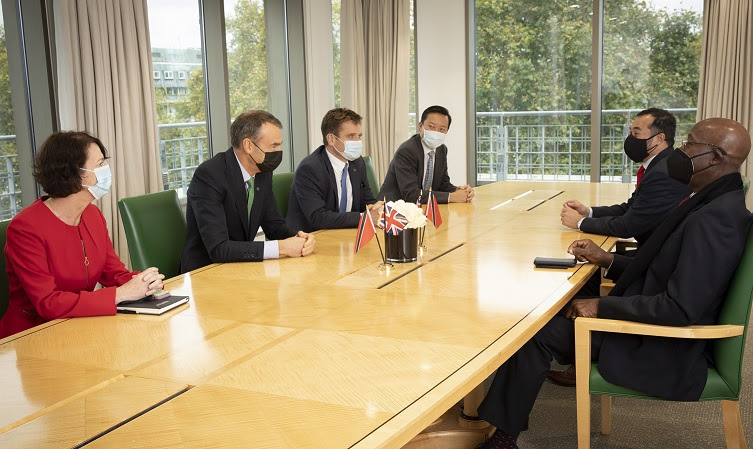 According to a statement from the Office of the Prime Minister, during the two-hour meeting with Looney, which was also attended by delegations on both sides, Rowley raised several matters for discussion related to the international conversation surrounding the industry's future.
"Looney gave an assurance of BP's continued commitment to Trinidad and Tobago and discussed the company's philosophy in an evolving global energy sector. He said that Trinidad and Tobago would continue to play an important role in BP's asset portfolio," the government statement said.
Talks also focused on future gas exploration, production, and the restructuring of Atlantic LNG.
The parties have also agreed to prioritize completing the 112.2 MW solar projects, which are a joint venture between BP, Shell, and Lightsource BP.
Those projects were also a topic of discussion in Rowley's talks with Shell, which focused on key growth projects and potential collaboration opportunities to further Trinidad and Tobago's renewable energy goals.
Wael Sawan, Shell's newly-appointed Director of Integrated Gas, Renewables, and Energy Solutions, led a presentation on the company's energy transition strategy. He focused on the possibilities of carbon emission reduction in Trinidad and Tobago whilst working on the continued production of natural gas, which is recognized as a greener, cleaner fuel source.
Sawan said Shell remains committed to securing Trinidad and Tobago's energy future and is excited to play a leading role in unlocking its energy transition potential and building its portfolio in the twin-island republic.
Talks also centered on the recent Cabinet approval of the Production Sharing Contract Amendment (PSC) for the Manatee gas field, a historic development for Trinidad and Tobago. The Manatee gas field will be a significant gas production project and one of the largest single investments in Trinidad and Tobago in decades. The parties will sign the Manatee PSC in Trinidad and Tobago later this month.